To the airport
On your day of travel, you will be assigned a scheduled pickup time that includes a 15-minute window. Your SuperShuttle driver will notify you of arrival and assist with your luggage. Expect to be dropped off right at your designated airport terminal.
For rides to the airport, please reserve your shuttle at a minimum of two hours in advance to allow for timely pick up and drop off in anticipation of your flight. SuperShuttle recommends booking at least 24 hours in advance to ensure timely accommodations.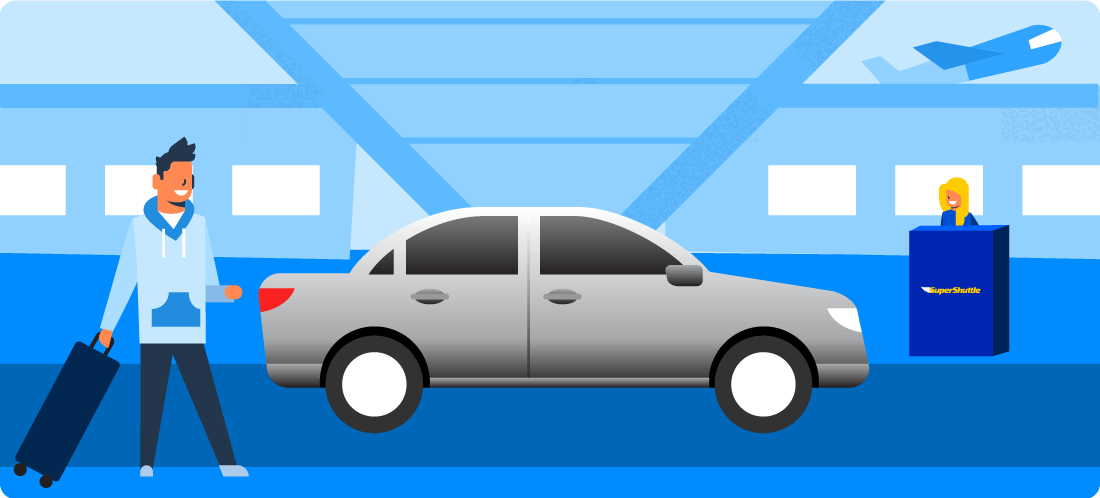 From the airport
Once you arrive at your destination, first proceed to baggage claim to retrieve your luggage. You will receive a text message or mobile notification prompting you to check in for your ride. Checking in will notify your provider that you have your luggage and are ready to depart! After you check in, you will receive instructions on your mobile device guiding you to your pickup location within the terminal.
Don't have a mobile device? No problem! A number of our airport locations have on-site ticket counters. Please navigate to the ticket counter located inside baggage claim or outside on the curb and a service representative will assist you. In addition, you can refer to your email receipt for detailed airport instructions upon landing.
Forgot to reserve your ride in advance? Also not a problem! On demand service from the airport is available in most airports served. Grab a ride via the SuperShuttle app or speak with a curbside representative to grab a ride on the go.